The "British Columbia Gold Bank"
Now Open to American Investors
Gold banks outperformed every major asset class for the past 2 decades – rising over 926% since the mid 1990s – and I just bought shares of Canada's best gold bank in a matter of days.
Here's why...
Dear Reader,
One unique type of gold investment (that most Americans have never heard of) based in British Columbia has outperformed every asset class in existence – rising twice as fast as gold.
The average investor in this gold secret made over 80% a year for 20 straight years – even after gold crashed last year.
But some investors had the chance to make 3,000%+ gains…
I call this investment the "British Columbia Gold Bank" because it's a super-safe way to invest in gold.
That's because while this secret is related to gold – it has none of the drawbacks of a typical gold investment.
It has nothing to do with gold mutual funds, trading, futures or bullion.
It's like no other gold investment you've ever heard of.
CNBC recently called this investment "a banker for gold miners."
As I'll explain, gold banks have all of the upside of gold – with none of the downside – and the potential for much faster gains.
Let me explain how it works…
The Wall Street of Commodities
This story begins in Vancouver, Canada – the city The Economist calls "the most expensive city to live in North America."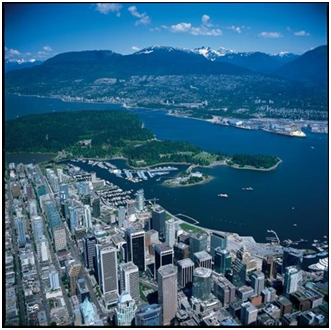 Nestled in a bay on the coast of the Pacific, in the foothills of the famed, world-class ski area at Whistler Mountain, this city of less than a million people has become a hub for wealthy investors…
The world's richest investors have flocked to Vancouver, British Columbia – from China, Japan, India, Russia, Brazil and all over Europe – for one simple reason: Vancouver is home to the world's biggest and most lucrative resource stock exchange.
It's the Wall Street of commodity investments.
Most people have no idea – but far more money gets funneled through Vancouver for commodity development than any other market anywhere in the world.
In fact, 80% of all resource investment in the world comes from Canada.
And many of the companies listed in Vancouver are risky – some of the riskiest in the world. Thousands of small exploration companies vie for limited access to capital – many of them go bust.
These small companies are the lottery tickets of the investment world.
And they all need funding.
That's where the British Columbia Gold banks come in.
They provide funding to the BEST possible precious metal startups – the explorers and developers with a track record of success, the best property, the best reserves, etc.
In exchange, these "Gold Banks" receive a portion of the future production and proceeds of any gold mined during the entire lifespan of the company.
And the best resource analysts in the world all work in Vancouver – for one little-known gold bank…
A Gold Investment You'll Never Want to Sell
Regular gold is a fine place to park some cash - to protect it from the likelihood of currency devaluation, but "British Columbia Gold Banks" are a little different.

You buy it once... and almost immediately, you can start reaping the rewards...

For instance:

In 2011, as regular gold prices fell 10% between August and November -- 63-year-old Arkansas retiree Kenny Taylor saw 69% gains on paper with his "BC Gold Bank" holdings.

But Kenny didn't sell - even to realize a near double in capital gains.

That's because Kenny also received over $2,392 in 2008 from "BC Gold."

And he's not the only one...

Frank Mathews got a check from "BC Gold" worth at least $2,000 early in 2011 - and again in January, he received another check - this time for over $2,500.

I have to emphasize:

These checks really aren't the best part of the story - not even close.

To be honest, I'm quite sure that while the checks you might receive from "BC Gold" could be this large (or larger) - it's more likely that you'll get MUCH wealthier, far faster in another way.

That's what I've been researching over the past several months. And what I found made me reconsider my entire gold investment strategy...

Get Paid - Just for Owning It
Let me show you how "BC Gold" is way better than your typical gold investment.

If you own stock in gold miners, then you're basically crossing your fingers and hoping they can find and produce gold at a profit.

Once they find the gold, your company then has to dig it out - often sorting through 100 tons of mud, rock and debris to process as little as 3 ounces of gold.

Then...

They have to grade it. Not all gold is pure gold. Sometimes it's alloyed with silver - sometimes it's mixed in with copper.


They have to transport it. Frequently through thick jungle in hostile territory.


Then they have to ship it to refiners - who take their own piece of the pie, along with the government of the country they're shipping out of AND the country they're shipping into.

In short, gold mines are TERRIBLE businesses that rarely pan out – and even when they do, they're so capital intensive that they almost never make munch money.
Of course, you can make great money if a gold miner hits it big – but that's a big if...

However, when you own "BC gold," you don't worry about hostile governments or tricky mining terrain.

And more importantly, you don't pass any of the profits on to anyone else.

Let me show you what I'm talking about.

$11,000 a Year
What I call "BC Gold Banks" are very rare.
There's only a handful of Gold Banks in the world, and only two in British Columbia.
And they go by another name. You might know of them as "royalty streaming" or "gold royalty" companies.
But you might not know how fantastically profitable they are…
If you put just $1,000 into the gold royalty company Royal Gold (Nasdaq: RGLD) in 1992, you'd be sitting on over $1.4 million in profits. You'd also be collecting dividend payments of over $11,000 a year.
If you put $1,000 into Silver Wheaton (NYSE: SLW) in 2008, you'd be sitting on about $6,700 in gains, and you'd collect a 4.3% dividend this year.

And while many investors will buy Royal Gold and Silver Wheaton today with the hopes (and dreams) of seeing similar share appreciation and dividend growth, those days are largely gone. You can't buy past performance.

Royal Gold just isn't going to grow another 2000-fold anytime soon. That would make it a $3 trillion market cap company. It would be bigger than the top 5 biggest companies in the Dow put together. It's just not going to happen.

Silver Wheaton isn't likely to grow another 20 fold in the next three years either. That would make it a $140 billion company – bigger than BP (NYSE: BP).

So if you want to achieve a similar result in your portfolio, you have to find the next Royal Gold and the next Silver Wheaton.
Such a company already exists - and if you buy it today, you give yourself a great chance at repeating the performance of its forebears.

This company is only about 4 years old and it is already off to a better start than Royal Gold in its first 4 years.
That's because this other "gold bank" already has 10 gold streams producing with more coming online early in 2014 yet it has a total market cap under $600 million.
And amazingly – they've put together deals with their 10 gold streaming clients to ensure they get access to any gold they mine for an average of $400 an ounce…
How to Buy Gold for $400 an Ounce
I know it might seem crazy to buy a gold stock at this point.
Gold is down almost 40% since 2011.
Gold stocks are even worse – selling for the lowest price since the financial crisis of 2008-2009.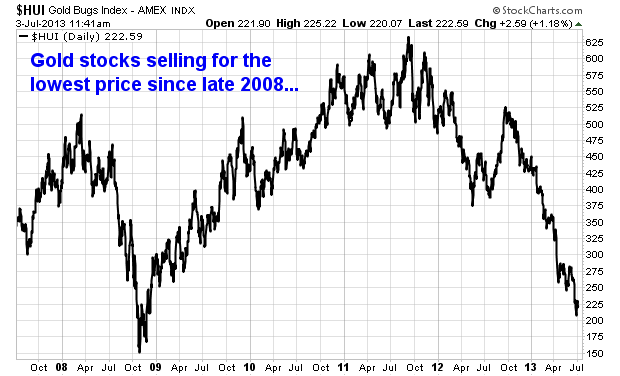 But when you can buy gold for $400 an ounce – why would you care if it goes down to $1,200 or even $800?
It's a question of "how profitable will you be?"
And over the past 2 decades, precious metal banks like Royal Gold and Silver Wheaton have outperformed EVERYTHING thanks to their ability to buy gold (and silver) at super-low prices.
I firmly believe that my favorite BC gold bank will walk in the same footsteps as Royal Gold and Silver Wheaton.
That might sound like hollow talk, but the truth is, I just bought shares of this bank.
That's right – I put my own money into this investment – because I believe we're not likely to see a better time to buy it any time soon.
And I'd like to show you how to get into this investment too…
I've put my money where my mouth is… and invested my own money in this company.
My readers always have the opportunity to invest before I do… and when necessary, sell before I do too.
I'm last in and last out…
Allowing my readers the opportunity to profit first.
So, if you'd like to get your issue right now… and find out everything about this gold bank.
Including the name and ticker symbol…
Just click here and take a risk-free, 3 month trial to my real money service $100k Portfolio.
You'll receive instant access to your brand new issue…
And discover exactly how I'm growing my portfolio… and making a million dollars by the end of the decade...
You see, I'm on a mission to turn $100,000 dollars into 1 million dollars…
And I only have six years left to do it!
Let me explain…
A few years ago… just before I was about to become a father for the first time…
I set aside $100,000 of my own money into a special brokerage account.
The money was earmarked for my son Macallister's education.
My plan was to turn my initial investment of $100,000 into 1 million in ten years...
Why ten years?
Why 1 million?
Well, even though my son won't be ready for college for at least 15 years from now…
I don't want to take any chances with little Mac's education.
And then there's the possibility of prep school and graduate school.
Besides, I knew my wife and I wanted to have more children.
In fact, since starting this special account, we've had another child.
My baby girl's name is Emmerson… and there's no doubt in my mind she'll be attending a top-tier university as well.
Of course, since this money is for my children's education…
I'm not willing to take a lot of risks with it.
In short, I'm personally committed to reaching my goal.
So while I'm not reaching for the sky or taking a chance on a penny stock…
I'm not content with two or three percent returns either.
That's just not going to cut it.
As you know, a college education isn't getting any cheaper.
In fact, the cost of tuition is rising even faster than the rate of inflation.
Which is why I'm shooting for twenty percent gains a year –
And I'm already working toward my target of a million dollars in ten years...
Recently my account was valued at $240,000.
So, if you're fed up with zero percent interest from traditional income investments like C.D.s, money-markets, and savings accounts...
And you want to capture real gains...
I'd like to introduce you to a unique strategy I call "a conservative approach to aggressive investing."
It's how I'll pay for my children's education...
And here's where you fit in…
When we decided to set up a college fund, I spent a lot of time and energy finding just the right investments for this special account... and my children's education.
Only the highest quality, safest investments would do.
And that part hasn't changed.
I was putting myself under a lot pressure to find only the safest and most profitable stocks that would secure my children's future.
And to be honest… I was hit with the extreme sense of responsibility that comes along with fatherhood.
It was pretty overwhelming.
That's when my wife Carrie suggested that I do something unheard of with this brokerage account we created for our children's education.
Since I was doing all the painstaking research and analysis anyway…
She suggested I let other investors, people with similar goals of safely growing their wealth, watch my every move and take gains along with me.
So whether you're saving for retirement… accumulating wealth to leave for your children… or saving for college tuition like me…
My $100k Portfolio service maybe be right for you.
Now, I've made a career out of helping other investors achieve their goals...
My firm, Wyatt Investment Research, provides investment research, analysis and advice to over three hundred thousand individual investors…
And I've made a comfortable life for myself and family.
But as much as I like making money… and believe me I do..
what really drives me is helping people achieve their financial goals and live a life of freedom.
So I like you to at least consider taking a risk-free trial to my service...
because there's real money on the line here… and I'm not willing to lose it.
So here's what I propose…
Instead of investing my $100,000 behind closed doors…
I've decided to make this special brokerage account completely transparent and open to investors like you...
That way, individual investors like you can follow my lead...
and have confidence that you're making safe, quality, long-term investments.
Now, you should know I started this exclusive advisory service during the depths of the financial crisis when many investors were simply giving up and walking away from the market.
But my readers and I were buying during the lows – and it's paid off for us ever since.
We've scored some fantastic gains recently:

200% on Netflix
49% on Coeur D'Alene
157% on Mastercard
36% on the SPDR Gold Shares ETF
70% on Verizon
117% on Howard Hughes Corp
35% on Pfizer
25% on Wells Fargo

And I'm happy to report I'm doing even better this year and getting closer to my ultimate goal of growing this account to $1 million dollars.
So whether you have $100,000 dollars… or $5,000 dollars…
You can get started with $100k Portfolio today.
You can safely invest alongside me and quickly grow your money in the months and years ahead...
And while I understand that not all of my readers have young children with college tuitions to think about…
I've come to realize there's not a whole lot of difference in the way one invests for college or retirement...
or any other life-stage for that matter.
Each of these scenarios demand limiting risk while maximizing returns.
Which is why I'll be hand-selecting the best opportunities in the market… a well-diversified mix… including blue-chips, dividend-payers, emerging market investments, ETFs, and energy and growth stocks.
Because one thing's for certain: I won't be taking any unnecessary risks with this money.
This is one of the reasons I'm so comfortable recommending this gold bank
It's one my favorite long-term investments to grow your money available today.
In fact, it's a lot like the other investments in the $100k Portfolio: It's a sound investment for the long-haul.
My children's future is at stake – and there's nothing more important than their well-being.
If you have children, you probably know where I'm coming from.
If not, and you're saving for retirement… or a condo on the beach in Florida… or your children's inheritance… there's a good chance my approach to investing aligns with yours.
So here's what I propose…
I just bought shares of this gold bank.
And, I completed a full research report on this bank.
As I mentioned earlier... it's called: The BC Gold Bank.
Inside, you'll learn everything about this company, including its name and ticker symbol… and a full in-depth analysis.
This may be of the most intriguing investment opportunity you hear about all year.
And I want to share with you my very best idea…
But keep in mind… I don't sell individual research reports.
They're for members only.
But all you have to do to get it… is try out my $100k Portfolio advisory service...
Which is completely risk-free offer considering that if for any reason this advisory service is not everything you expected and more…
You can cancel and receive a full refund… any time between today and in the next three months!
Truthfully, that's the only way a publisher like myself can make it in this business… because if I'm not making money for my subscribers, they're inevitably going to cancel.
So even beyond my children's education…
I have all the motivation in the world to make aggressive returns on my $100k Portfolio investments.

Now, when you decide to join me at $100k Portfolio today…


You'll get a monthly newsletter with a review of key events affecting our portfolio…


Updates on our current positions, including new investments I'm considering for the portfolio…


And you'll always receive pre-purchase alerts on every position. I always let you know before I take any action in my real portfolio… so you have the opportunity to buy or sell the investment before I do – and perhaps enjoy even greater returns!


You'll also receive email alerts whenever I make a move in the portfolio… so you always know exactly what's happening. These alerts will include all the details of the investment… including the ticker symbol, number of shares, price, and total transaction cost.


Finally, you'll be sent detailed reports on every investment I add to the portfolio… whether it's an ETF, mutual fund, or individual stock or bond… I'll tell you exactly what I'm buying and selling, and more importantly… why… so you can determine if the same allocation makes sense in your portfolio.

Together we'll work to capture gains that could significantly outpace the market… and perform better than most mutual funds or hedge funds.
And I want to help you achieve these types of returns without putting your money… or should I say our money… at risk.
And here's the best part…
Normally, a full year of the $100k Portfolio costs $99.
But as a special promotion for my BC Gold Bank issue, I'm offering you a 50% discount. That's just $49…
I believe we'll see huge gains in the gold sector – and especially in the gold bank sector in the coming months and I want to make sure as many of my readers as possible take me up on my offer and get into this investment now.
When you claim your discount, you'll get a full 3 months to decide if the $100k Portfolio is right for you.
You'll also immediately receive access to our brand new issue, The BC Gold Bank.
and bonus investment reports… dozens of back issues…
PLUS – You'll also get one of my most popular special reports: The Apple Effect: One Stock to Profit from the Next iDevice.
Inside, you'll discover the story of Steve Jobs' next and final iDevice… a revolutionary new Apple product that's expected to take the industry by storm.
And send the shares of a little-known U.S. supplier soaring once this new Apple product hits the shelves!
You'll receive this report and everything else I've mentioned as we work together to grow you our portfolios considerably in the years to come… for less than what you might spend on one trip to movies with your family.
And I really think you'll like this…
My DOUBLE Money Back Guarantee…
If for any reason, you don't think the service is fulfilling its promise to you, you can get a one hundred percent refund on your subscription fee during the first three months of your membership.
That way, you can read all of the issues…
keep all of the special and bonus reports…
follow all of the buy and sell notices...
and still call my office on the last day of your first 3 months and request all of your money back.
And I'll refund all of it. Every cent. No questions. No problems.
That's my guarantee to you…
This is truly a great opportunity... I hope you'll join me today…
To get started and get your issue: The BC Gold Bank… just click the link below.

Click here to start now and get
your special report.

Good Investing,



Ian Wyatt
Chief Investment Strategist
$100k Portfolio

* Investing in stocks carries certain risks for loss just as much as it presents opportunities for rewards. While each of the stocks in this new investment report has been thoroughly researched by professional analysts, investors are advised to perform their own research and due diligence before investing. Future returns claims made in this promotion are based on calculations and evaluations made to the best of the ability of $100k Portfolio research analysts, however they CANNOT be guaranteed and should not be considered as such.