Found It…
The NEXT Netflix!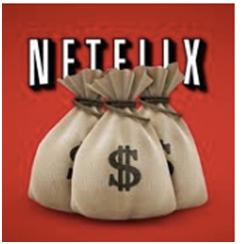 Fellow Investor,
I've spent the last year scouring the globe in search of The Next Netflix.
Why?
Back in December 2011, I issued a Strong Buy on the company famous for sending DVDs in little red envelopes...
Yes, immediately after CEO Reed Hastings made a few silly moves and – BOOM – the stock plunged 77%.
Why did I go all in on "America's Most Hated Company"?
I knew Netflix was undergoing a transformation. Red envelopes were out.
I was one of the few who knew that the next big thing – digital delivery of films and entertainment – had been part of Netflix's business for over a decade.
And I saw a unique profit opportunity...
The stock was cheap, trading at $71 (down from $300 just five months earlier). And the company stood to profit from the rapid growth of streaming video on the Internet.
So I put my money where my mouth was and bought shares of Netflix in my real-money portfolio. Since then, the stock rose as high as $458 – for a maximum return of 545%.
More than FIVE TIMES MY MONEY in a very short time span.

Did you ever let "the big one" get away?

Have you watched a favorite stock crash to new lows… only to go slack-jawed 90 days later as the same stock rocketed to new highs?

Relax, we've all been there.

But for every investor who missed the boat, there's one fortunate fellow who ran to the bank with a truly massive jackpot.

Just how big? Get ready for it…

Take a peek at a tiny handful of beaten-down stocks that 'boomeranged' straight back to glory since 2009:

Pier 1 Imports (PIR): up 21,700% from $0.10 to $21.7

Select Comfort (SCSS): up 10,816% from $0.19 to $20.55

Sirius XM Radio (SIRI): up 6,100% from $0.05 to $3.05

Las Veas Sangds (LVS): up 3,623% from $1.38 to $50

Lululemon Athletica (LULU): up 3,035% from $2.17 to $65.86

The key, of course, is identifying these comeback stocks in advance – and investing at precisely the right moment. You might say I have a God-given knack for knowing when to pull the trigger…

You see, I launched my new $100k Portfolio advisory just six weeks before the bottom of the stock market crash in 2009. I timed it perfectly – launching with $100,000 of my own hard-earned cash at a time when PRACTICALLY NOBODY was buying stocks.

Sure, it took guts. You won't believe the number of crazy looks I got at the time.

But I think you'll agree, buying at the LOW point – whether it's a particular stock or the market in general – is a HUGE advantage when it comes to winning big.

And that's exactly what has happened.

Take a quick peek at how buying LOW (smartly)… gave us the opportunity to sell HIGH (very happily)…

I PUT MY MONEY WHERE MY MOUTH IS… and We Hit the Bulls Eye!

It doesn't work for all companies, of course. Just the true world-beaters.

And signs are it's about to happen again.

Could this be the Single Most Powerful
'Boomerang Stock' of 2014?
It's time to pull back the veil on potentially my BIGGEST blockbuster of 2014.

The stock I'm going to tell you about is one of those classic 'boomerang' investments ... the opportunity to buy a world-class organization for a whopping 50% off its true market value.

These opportunities don't come along often, and when they do, you need to act quickly. Now is that time.

Today marks a break with tradition. Right now, our portfolio has zero exposure to the retail sector. That's about to change – and these headline figures have a lot to do with my decision…

Retail sales account for roughly one-third of total U.S. consumer spending.


U.S. retail sales have risen 20% since 2009, the year the Great Recession hit.


Through September, U.S. retail sales improved for six straight months.


This year retailers are on track to surpass $5 TRILLION for the first time ever.

In fact, the retail recovery has vastly outpaced the overall recovery in U.S. consumer spending. The ETF that tracks U.S. retail stocks, the SPDR S&P Retail (XRT), has risen 41% year to date… significantly better than the broader S&P 500.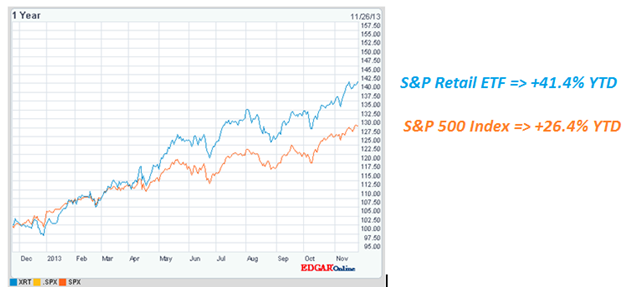 But not all companies went along for the ride…

One company's meteoric rise was 'temporarily delayed.'

Today I introduce you to what could be the MOST UNDERVALUED STOCK in the entire 'bricks and mortar' retail industry. And it's the perfect play for the ongoing U.S. retail recovery.

I call it my 'Stealth Retail King of 2014'. Before you dive in, please understand…

It hasn't all been smooth sailing for my new pick. They've experienced a few bad quarters – and haven't yet witnessed the kind of share price appreciation enjoyed by many of their peers. But they're turning it around fast… growing revenues and stockpiling cash.

And there's a heck of a lot more to like…

This small ($2.7 billion market cap) women's apparel company has very humble beginnings.

The Stealth Retail King was founded in 1983 as a tiny boutique selling Mexican folk art and cotton sweaters on Florida's Sanibel Island. Customers loved their brand so much that the owners decided to national.

Fast forward to today. They operate 1,427 stores coast-to-coast promoting four superior brands geared to ladies ages 30-65. Each brand publishes its own monthly catalog and has its own website.

In almost every measurable way, the Stealth Retail King is outpacing its competitors. Get this…

The company reported sales of $751 per square foot in its most recent quarter – DOUBLE the per-square-foot sales at Talbots, Ann Taylor (NYSE: ANN) and Coldwater Creek (NASDAQ: CWTR).

Even more impressive is its virtually spotless balance sheet. The company has $302 million in cash… is on track to have $370 million by year's end… and has ZERO debt.

Talk about primed to explode.
Capitalize on a Classic 'Buy Low' Window…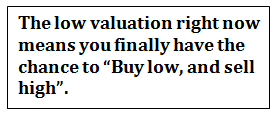 At first, you might be scratching your head. How could such a smartly managed firm have missed the boat during the retail sector explosion of 2013?

Well, they missed a few earnings targets and paid a huge price.
The stock is actually DOWN 6% year to date.

But that's great news for us. See what Mr. Market did? He handed us a prime buying opportunity… at a deep-discount price… in one of the fastest-growing American industries!

By virtually every measure, the Stealth King is a bargain.

It trades at just 5.8 times EBITDA. And it trades at just one time this year's projected revenue of $2.7 billion.

Even if it wasn't expected to grow in the next year, the stock would be HUGELY UNDERVALUED.

But we have a few aces up our sleeve.
Fortunately, there's plenty of good news – and exciting growth – just over the horizon.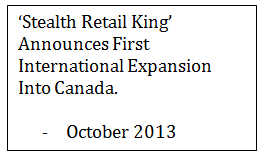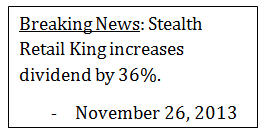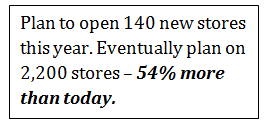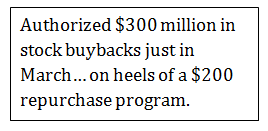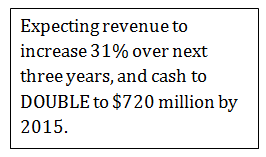 No Promises, But Here's One More Intriguing Detail
There's one more angle at play here. One that could trump all other growth triggers…

It concerns the Retail King's CEO.

He's has a 20+ year track record of success in retail. He was president and CEO of Tommy Hilfiger Corporation, president and CEO of Lands End, executive vice president at Sears, acting president of the J. Crew Catalog, and president and COO of the Home Shopping Network.

An outstanding pedigree for the head of an up and coming retail giant. Correct?

Well, something just caught my eye…

Tommy Hilfiger and Lands End were his most recent stints. Both these companies were bought out with him at the helm.

Given his track record, I am speculating he may be positioning to 'flip' his current company.

It's certainly an attractive target. Strong free cash flow, zero debt and huge growth opportunities both in the USA and abroad. It's modest size is another plus.

"Those are things that private equity appreciates," Rick Snyder, a New York-based analyst at Maxim Group, said in a recent interview with Bloomberg. "(He) was CEO at two companies that were sold. People connect those dots."

Now wouldn't that be nice?

You buy into a growth stock… that doubles as a value play… and get a BONUS of being especially attractive to suitors with big pockets?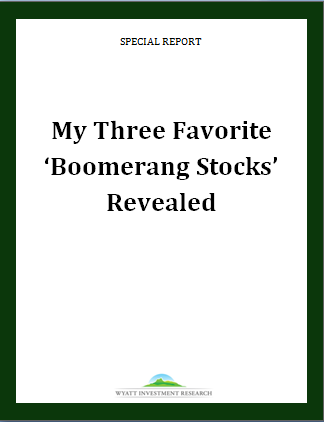 I could go on and on about why you need to own a slice of this company. But I'll tell you what…

I'd rather spill the beans in a Special Report I just prepared called My Three Favorite 'Boomerang Stocks' Revealed.

Look to page 19 for all the essential details on my "Stealth Retail King of 2014".

All it takes is 60 seconds to reserve your FREE copy right now.

MY MOTTO: Amazing products win. Period.

Here's one more example of my prowess for jumping on temporary dips – and hanging on for huge profits.

Mind you, you may have heard about this barnburner. And I'm certainly NOT recommending you buy it now.

But seeing how this drama unfolded sets the stage for what you may experience in $100k Portfolio.

Think Microsoft and the PC… Google and Internet search…

Only this time, I spotted a maverick on the verge of revolutionizing one of the oldest industries around.

Tesla is the kind of company capable of changing the world, turning an industry upside down, and blowing the status quo out of the water.

Tesla's automobiles have NO internal combustion engine. That's right, they're ELECTRIC – and treat their lucky owners to a fantastic 96 MPG.

Plus they have that elusive 'fun factor'…

But earlier this year, I noticed Wall Street turning a cold shoulder on the company.

Analysts said America still wasn't ready for gas-free cars…

That infrastructure would take years to build…

That GE and Ford would eat Tesla's lunch…

Here's the crux of the matter…

I performed diligent research and know what I discovered? Much of this pushback had more to do with LIES, DISTORTIONS and INSIDER INTERESTS than it did the truth about Tesla's real potential.

Only then did I issue a Strong Buy in February 2013…

The result? A +377.4% profit in less than six months.

"TSLA gave me a total profit of $9,000 in just 3 months.
Thanks for the great recommendation."
- Mark L., May 24, 2013

You may have heard the stock has fallen back in recent weeks. A number of car safety issues are being investigated.

Luckily, I "rang the cash register" recently– cashing out some of our TSLA stock while the price was still within reach of its all-time high.

After all, no one ever went broke cashing in triple-digit gains!

Meet Your New 'Chief Investment Strategist' for 2014

My name is Ian Wyatt, president of Wyatt Investment Research.

I launched $100k Portfolio in 2009 with an infusion of my own money. I wanted to prove – for everyone to see – that I could transform my initial $100,000 investment into $1 million within ten years.

Yes, I'm talking about $100 grand of my own cash.

And boy, are we racking up the gains!

√ The 33 holdings in my portfolio are UP an astounding 38.6%, on
average… plus 'dividend gravy' paying thousands more.
√ YTD I'm boasting a +33.4% performance – far better than the red-hot
S&P so far in 2013!
Today we're enjoying a terrific burst of momentum, plus a star-studded pile of double- and triple digit winners in our portfolio. We've experienced gains up to:

+98% on Google (GOOG)… +43% on ConocoPhillips (COP)… +151% on Howard Hughes Corp. (HHC)… +245% on MasterCard (MA)… and +403% on Tesla Motors (TSLA)… and +399% on Netflix (NFLX).

Right now, only 33 companies have made the cut

So what's the common denominator – the ONE non-negotiable requirement for a firm to be included in my $100k Portfolio?

Small cap… mid-cap… mega-cap. It doesn't matter!

The only requirement is it MUST have proven, demonstrated evidence to be selling at a discount to its actual enterprise value.

Mind you, there are two distinct types of boomerang companies – both of which offer you real shot at meteoric success:

Either a GREAT COMPANY with an impressive track that hits a bump in the road – and falls on temporarily tough times.


Or a BRAND NEW UPSTART with a powerhouse business model that flies under the radar – and has yet to catch Wall Street's
attention.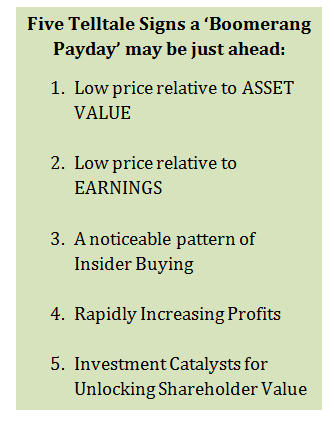 Let's face it. Most investors are like sheep.

They like to follow the herd.

Human nature makes them want to buy when the market is at record highs ("Hey, I don't want to miss another day of this rally")… and sell at the bottom ("Man, I refuse to get burned any more on this one.")

Sorry, but that's a recipe for disaster.

It represents the exact OPPOSITE of how I approach this market.

Please understand the market is far from perfect.

Stocks tend to overextend on the way up – and overcorrect on the way down.

This scenario plays out again, again, and AGAIN. You've seen it happen yourself…

An individual stock becomes Wall Street's 'darling' today and gets bid up into the stratosphere.

Everyone jumps in during the buying frenzy…the price climbs SO HIGH… until pundits in the Wall Street Journal begin sounding the warning bells.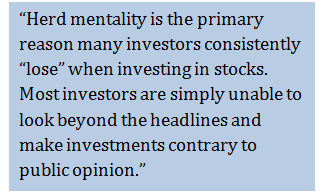 The price can't be sustained – and it eventually the price comes crashing down.

Turns out I have a knack for knowing which companies are destined to rise again.

I'm wondering if you have what it takes, too.

REQUIRED: Do you have the courage to buy world-beating
stocks when they're TEMPORARILY out of favor?

Only in the long term do we have a truly 'efficient market'.

That's when fundamentals and true valuation drive share prices.

But in the short term, short-lived price 'gaps' happen all the time.

Still, it takes guts to buy a stock that was once loved… and is now hated, even despised.

I need to know if you have the stomach to buy a world-beating company when its price is dragging the bottom of the barrel… TEMPORARILY…

If you have a tough enough hide to ignore a few sneers along the way… TEMPORARILY…

And if you have patience to wait out the eventual comeback… ALMOST EVERY TIME.

If so, you're the kind of investor I want to share in the fortunes of my $100k Portfolio service!

Admittedly, big blockbuster wins like +399% on Netflix and +403% on Tesla are likely to get your blood pumping pretty fast.

But you don't need to be an adrenaline junkie…

Our balanced portfolio sports dozens of more modest winners including:

+27% on Wells Fargo & Co. (WFC)
+48% on Starbucks (SBUX)
+30% on American States Water (AWR)
+38% on ConocoPhilliops (COP)
+65% on Loomis Sayles Bond Fund (LSBRX)
+151% on Howard Hughes Corp. (HHC)
+245% on Mastercard Inc. (MA)

As you've seen, I'm quite good at sweating the details, performing the research required to pinpoint these eventual winners – BEFORE they experience a price explosion.

And remember, I buy in my own account each time I suggest you buy a stock.

Plus as a subscriber, you ALWAYS get the first chance to buy. I make it very clear what I plan to do. So you have every chance to get invested just before I do!

So won't you let me do the heavy lifting and give YOU a single trade that could earn you $12,500 or more on a $4,000 bet?


Get 12 Months of My "Boomerang Stock Advice"…
Without Leaving Your Living Room

You've seen the eye-popping returns my readers and I have enjoyed over the past year... quarter...even within the past 30 days.

Now I'll make it easy for you to join $100k Portfolio...

First, I need to ask you this. How much would you expect to pay an investing pro to take you by the hand and give you VIP access to the world's most profit-packed plays... for 365 straight days?

$1,500... $750... $500?

$100k Portfolio is yours for a mere fraction of that.

To mark the recent discovery of perhaps the biggest 'Boomerang Stock of 2014'... I'm committing myself to helping you invest the way I do with my own family's money…

To cement your financial future...

For a limited time only, I'm dropping the price for $100k Portfolio to an unbelievably low $49.

This "special exemption" is the ONLY way you can trade on my newest "Boomerang Stocks" for only 13 cents per day...

Mind you, I can't afford to let this exclusive discount last for more than a few days. It's strictly time-limited. No guarantee it will still be available after 48 hours.

So... If you're 100% serious about buying super-low and selling high, I advise you to click here now.

Remember – Mark L. made a total profit of $9,000 after only 90 days.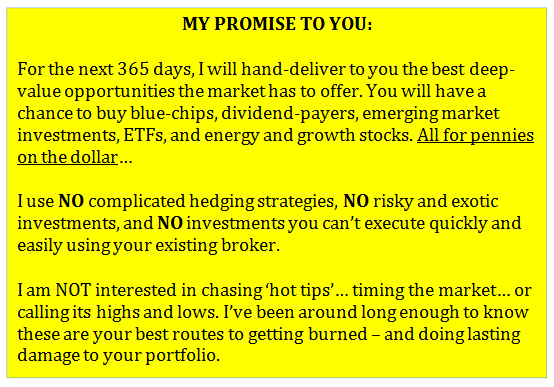 Your Best Shot Growing Your Wealth…
Safely and Consistently
Your choice is simple.

You can close your eyes and hope this bull market continues forever. Happy to rack up 'minor' gains of 10%, 15%... or perhaps 25% on a rare big winner.

OR you can join the legion of value investors who figured out how to beat the average returns of the S&P 500 a long time ago.

And not by a little. BY A LOT!

With a healthy proportion of double, triple and even QUADRUPLE BAGGERS thrown in along the way.

Sound like you? Then it's time you get invested in Boomerang Stocks!

Remember, buying world-class companies at rock bottom prices actually reduces your risk. And increases your 'margin of safety' with each new buy.

Simply put, the further a stock's price drops below its intrinsic value, the greater the margin of safety against future uncertainty – and a further drop.

Sure, some spectacular "Boomerang Paydays" have come and gone.

But realize this... you'll receive a new issue… with a BRAND NEW recommendation… each and every month for the next 365 days.

That's right. Each month for the next year, I will help you build a portfolio of exceptionally valued, high-growth Boomerang Stocks.

The real question for you is... Can you afford NOT to join me today?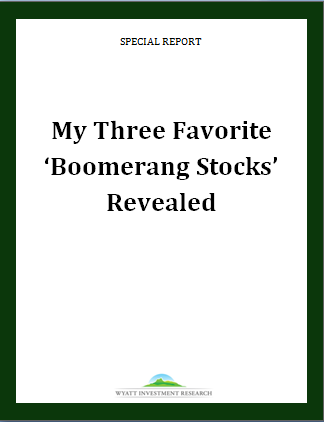 Respond today and I'll also throw in your FREE SPECIAL REPORT, " My Three Favorite 'Boomerang Stocks' Revealed.

In this 24-page guide, I shine a spotlight on the five most lucrative Boomerang plays to supercharge your returns. As of right NOW! For example:

Page 19 => JPMorgan analyst Brian Tunick estimates the Stealth Retail King of 2014 could be valued at $25 to $27 per share in a takeover. That's a premium of between 44% and 56% to the current stock price. Me? I put it closer to an 80% premium – at the very least!


Page 6 => Here's the absolute best value play in the exploding Energy sector! Of the 38 largest public companies in the industry, this New Energy Star has the second-lowest finding and development (F&D) costs at $1.48 per thousand cubic feet (Mcfe). That's less than half the industry average!

Plus there's a lot more to like about this one...


Page 7 => Why 'buy the recovery'... when you can rent it instead? This giant has one of the largest fleets in the rental industry. With rental penetration in Australia, Europe, the United Kingdom and Japan ranging between 60% and 80%, America is just scratching the surface. I predict a 40% upside – at the very least. Buy this one now for my favorite long-term play on America's recovery!

If you were to invest $10,000 in each of these five companies… I'd be disappointed if you don't realize a minimum $2,500 profit in each position.
Based on these figures, this premium alone could be worth at least $12,500 to you.
And I'll rush it to you for FREE today!
Why It's a Mistake to Pass on This Opportunity
I'm marking the introduction of my newest "Boomerang Stock" with a VERY LIMITED offer that includes all the exclusive benefits below. And you get them all for an incredibly low $49.
Now, when you decide to join me at $100k Portfolio today…
1. You'll get my 8-page monthly newsletter with a review of key events affecting our portfolio, plus a 'deep dive' on my newest Strong Buy…

2. Updates on each of our current positions (remember, there are 33 open stocks in my portfolio as of this writing)…

3. Real-time Email Alerts whenever I make a new move in my portfolio. You'll get all the details you need to make the transaction with your broker: ticker symbol, number of shares, price, and total transaction cost.

4. Pre-purchase bulletins on every new buy. I always let you know before I take any action in my real portfolio… so you have the opportunity to buy or sell the investment before I do – and perhaps enjoy even greater returns!

5. Finally, you'll enjoy detailed reports on every investment I add to the portfolio… whether it's an ETF, mutual fund, or individual stock or bond. You'll see exactly what I'm buying and selling, and more importantly, why… so you can determine if the same allocation makes perfect sense in your portfolio.
Need I say more? To promise you one more bonus before you say "I do"?
OK, how about THREE of them?
You'll also receive these 3 bonus reports, FREE, when you respond within 48 hours!
BONUS REPORT #1: The 10 Year Millionaire – (a $29.95 value) YOURS FREE!
My detailed plan for how we're taking $100,000 and turning it into $1,000,000. You'll discover the Seven Secrets to Profitable Investing as the blueprint for taking whatever amount you're investing and achieving the very best possible returns.
Bonus Special Report #2: Best Income Investments for a Safe Retirement – (a $29.95 value) YOURS FREE!
Whether you're currently retired, a few years out, or decades away, income investments are a must if you want a truly stable stream of cash coming from your investments. These are the investments that should be the bedrock of your portfolio.
Bonus Special Report #3: Dream Team Stocks – (a $29.95 value) YOURS FREE!
Discover the three American dream team companies that dominate the globe, make huge piles of money and pass those profits along to their investors in the form of dividends, capital gains and growth.
So now... you have no excuses.

And to SEAL THE DEAL ONCE AND FOR ALL…

Finally, FINALLY… My 90-Day 'Every-Penny-Back' Guarantee

Sorry, I have no wiggle room. You either get in now for $49… or risk having the price jump right back up to $99.

But there's no reason to hesitate before you hit the 'Yes, I'm In' button below.

Let me make it a no-brainer…

I'll give you valuable insurance in the form of a 90-Day Every-Penny-Back Guarantee.

Take THREE MONTHS to 'test drive' $100k Portfolio… to kick the tires and make sure you like what you see.

If after three months, I haven't shown you how to tap dozens of Boomerang Paydays… helped boost your family fortunes… and provided a blueprint for your comfortable retirement…

Simply give us a call and I'll ensure, as President of Wyatt Investment Research, that you are refunded every penny of your subscription. Right then and there. No ifs, ands or buts.

It rarely happens that a reader cancels, but I want you to know I'm 100% committed to making you PERMANENTLY RICHER – beginning right now.

So can I rush you your Special Reports and get you started today?

Click here to start now and get
your four FREE special reports.

Sincerely,


Ian Wyatt
Chief Investment Strategist
$100k Portfolio

P.S. Oops, almost forgot. You risk ABSOLUTELY NOTHING in giving us a try. Read through your first three months' worth of my recommendations on the house. Use your first 90 days to confirm that $100k Portfolio is just what you've been waiting for. If it isn't, just call and we'll gladly give you a 100% refund of your fee, no questions asked. You'll never know if you don't at least try it.

P.P.S. Since this is a zero-risk offer, go ahead and give it a shot right now. Then in just a few minutes, check your inbox for your FREE special bonus, "My Three Favorite 'Boomerang Stocks' Revealed." It gives full details on the 'Stealth Retail King of 2014' that I hinted about earlier…

All four free reports are yours to keep no matter what! Just for giving $100k Portfolio a legitimate shot…

* Investing in stocks carries certain risks for loss just as much as it presents opportunities for rewards. While each of the stocks in this new investment report has been thoroughly researched by professional analysts, investors are advised to perform their own research and due diligence before investing. Future returns claims made in this promotion are based on calculations and evaluations made to the best of the ability of $100k Portfolio research analysts, however they CANNOT be guaranteed and should not be considered as such.