There's a New Highway
Being Built Across America
Don't miss out…
…shares of this undervalued company
could DOUBLE in 2014
Hi. I'm Ian Wyatt. Founder and President of Wyatt Investment Research.

I'm writing you today to tell you about an opportunity that could very soon have a dramatic impact on your wealth…

It's the chance to invest early in this "new highway" being built across America…
Now, it isn't what you might think…
It's not a wild concept. It's got nothing to do with a flash-in-the-pan Tech IPO.
This is something real and very tangible.
And one of the best things is its being built right here in America by Americans.
I'm talking about something that's forever changing our nation's transportation system…
and improving almost everything about our modern lives…
Now, this "new highway" isn't a bullet train or some fantasy project that requires decades of building and massive government subsidies.
This "new highway" is here already and will expand dramatically in the months and years ahead. Just look at this map below: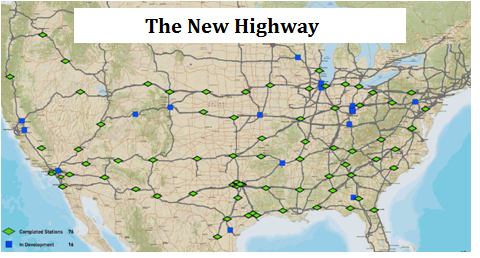 Each green dot represents a completed section of the highway…
And each blue dot represents a stop that is currently in development.
Pretty soon it will connect nearly every major city in the country.
Now, to be clear, it's not a matter of if this new highway will revolutionize America…
…it's a matter of when.
There are a number of promising examples of how this highway is changing the way we do business… Just take a look…
Take United Postal Service (NYSE: UPS).
They're one of the worldwide leaders in shipping.
And this October they announced their plan to spend an additional $50 million on infrastructure so their fleet of trucks can continue to reap all of the benefits of this new highway.
This investment will support the operation of approximately 1,000 tractor trailers connecting cities in Florida, Illinois, Indiana, Mississippi, Missouri, Ohio, Pennsylvania, and Texas to the already existing routes crisscrossing the Western half of the United States.
Between 2000 and the end of 2012, the UPS fleet drove 295 million miles on this new highway…
And by 2017 they plan to have logged a billion miles.
And it's not just UPS.
FedEx, AT&T, Pepsico, and Verizon have all announced plans to begin or expand their use of this highway.
Cities and municipalities are getting in on the game too.
Every single city bus in Culver City, California is driving on this highway; these buses are expected to last longer and require less maintenance then ones used in the past.
This is saving the city $1.4 million dollars a year in energy costs alone.
Now the city has secured $2.2 million in federal grants over the next five years to convert the remainder of its municipal vehicles.
And Culver City isn't alone. Other cities such as New York, Phoenix, Dallas, and San Francisco are in various stages of involvement. And just last week Philadelphia announced plans to connect to this highway as well.
This unique construction of this highway allows us to burn less fuel and with dramatically less impact on the environment.
Taxi cabs in New York City are driving on this "new highway" and are cutting their expenses by 40%…Here's what taxi driver Silvio Martinez has to say: "The performance [of my cab] is great [and this new highway is] an important step in cleaning up the air for my children and my grandchildren."
And just 50 miles away on Long Island, the small community of Smithtown has replaced their entire fleet of 22 dump trucks with ones that can drive on the new highway.
This switch has saved the community of more than 35,000 homes over $116,000 in 2010 and that's even taking new vehicle costs into consideration.
And it's not just Smithtown that's taking advantage of the savings. Almost 40 percent of the nation's trash trucks purchased in 2011 were built to drive on this new highway.
These are just a few small examples of how this highway is beginning. Right now only a couple of hundred thousand people use it, but soon it will be millions.
This highway is beginning to grow at an exponential rate.
This is the calm before the storm and the time to invest is now!
Consider this:
A little less than a year ago I added Tesla (NASDAQ: TSLA) to the $100k portfolio.
I recognized that this American manufacturer of electric cars was on the brink of a major breakthrough.
I wrote a report detailing all of the reasons that Tesla stock was primed to skyrocket…
… and those of my subscribers that joined me in purchasing shares of this juggernaut stock are now sitting on a 266% windfall.
And this year I've found a similar profit opportunity…
…an opportunity that would dwarf the electric car in how dramatically it would improve the American transportation system.
It's an entirely new network that will improve virtually every aspect of day-to-day life in this country…
…significantly lowering consumer costs, reducing negative impacts on the environment, and removing our reliance on outside energy needs.
Now this isn't experimental, risky, or untested technology.
Other countries, including Brazil, Iran, and China have already embraced this technology, and millions of people have been driving on this "highway" for years now…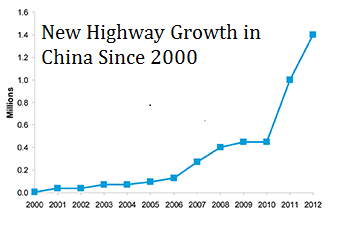 And right now a perfect storm of circumstances has come together which will allow every single person in the country to drive on the highway in the near future…
This new highway costs much less than the existing one… it will save an average family over 75% each month.
According to the International Energy Agency this new [highway] will eventually be the most used in America.
The time to get in on this investment opportunity is now.
This "New Highway" is the kind of once-in-a-generation opportunity that's helped daring investors make quick fortunes time and time again.
The trick is being able to identify these opportunities.
And it's not as hard as you might think…
People are making millions of dollars just by backing the right ideas at the right time.
And I've spent my entire professional life studying exactly how great investors and entrepreneurs make their fortunes.
What I've learned contradicts what most people believe about wealth building…
and explains why the so-called "smart money" on Wall Street can't even manage to match the market's average return.
It all has to do with a powerful investment secret…
This secret recently helped me cash in profits of 284% and 130%!
So what is this secret?
Well, it's not a surefire system for timing the market…
And I don't rely on hot stock tips… special charting tools… or fancy algorithms.
These are all good ways to lose money.
Instead, it's what I believe is the most important principle of capitalism.
The best investments are in companies that are the first to establish themselves in a given market…
I call these unique investments "Game Changers."
They are fast-growing companies …

That have a product so revolutionary that it disrupts an existing industry and creates an entirely new one.
Now, keep in mind that a disruptive technology doesn't necessarily mean "high-tech."
But it does mean lower prices and eventually a better product.
For example, Henry Ford made the cheapest and most reliable car in the world – selling over 15 million Model Ts. This was a record that stood for decades.
But the car itself was relatively simple…
It was his assembly line that was the disruptive technology.
The assembly line dramatically shrunk production costs…
In today's dollars, the first Ford cars cost over $36,000 dollars…
But by the time he perfected the Model T, it only cost $3,000 dollars…
This made it affordable for practically every American to own a car… while creating new demand and a new industry in the process…
Ford and his early investors became some of the richest people in the world in the early 1900s.
And this brings me back to the opportunity that I've been talking to you about today…
Like Ford, it's a chance to invest in a Game Changer… early on…
This is an opportunity to invest in the rapidly growing company that's building the new highway across America…
You see, this new highway allows you to travel around the country… to and from work… thousands of miles… for about half the price... six cents per mile.
Now, I know that may sound crazy in an age of sky-high airfare, $10 dollar tolls, and ever increasing gas prices…
But when you think about the biggest shifts in transportation in the history of America, it's not a stretch of the imagination…
You see, when steam-powered locomotives first debuted, these machines were considered unreliable. The skeptics mocked them!
Horse-drawn trains blazed past the first steam engines as they crawled along at just ten miles an hour.
But in a few short years, early investors of the railroad were the ones laughing as trains lead the expansion West…

Or consider when Orville and Wilbur Wright claimed they had a machine that could fly, people thought they were crazy.
Some suggested that they were scam artists.
However, this skepticism is a sign of a potential Game Changer.
Game Changers are businesses that are so disruptive that they challenge the status quo… and forever change America in the process.
Investors who back game changers early on can make a fortune… in some cases this can happen practically overnight.
It took Rockefeller and Carnegie an entire lifetime to make their fortune…
But today, we're talking about one game changer possibly rewarding investors with billions of profits in just a few short years…
So why does Wall Street miss these opportunities?
Because it's made up of massive organizations with board members and millions of customers…
from the top down, professional investors are focused on archaic statistics like debt-to-equity ratios.
They're using old models… old-fashioned metrics they are taught them on day one of business school and throughout their careers…
They're using these dated financial models to judge future opportunities.
It's like trying to drive a car by looking in the rear view mirror… it just doesn't work.
I have a different way of measuring a business's potential.
My analysis reveals where a business is going, not where it's been.
And the company behind this revolutionary "new highway" that allows you to travel thousands of miles for a fraction of the price, is primed to skyrocket in 2014
Now, out of respect for this company's investors and my paying subscribers, I can't get into every detail now…
But I can tell you that as each stretch of this new highway opens…
this game changing company's revenue soars higher and higher!
In fact, the company's sales are expected to double in the next year!
This is truly a disruptive company… and one whose shares could easily triple in value in the months and years ahead…
That makes right now the very best time to invest.
This is the kind of investment that you'll be talking about years from now…
One that grows quickly and could give you the chance to buy a bigger home… or even a second home!
one that could dramatically improve your retirement…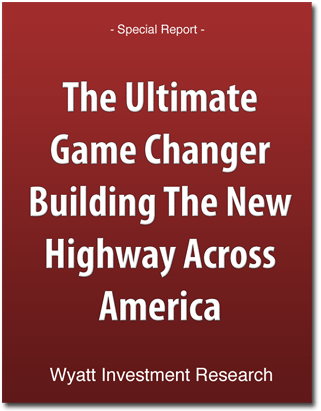 So, to start you on your way to increased profits…
I'd like to send you my latest research report…
The Ultimate Game Changer Building The New Highway Across America.
Inside, I reveal everything you need to know…
You'll get all the details on this game changing company…
And my analysis of this huge market opportunity that is being overlooked by Wall Street and most investors.
Plus, I'll show you how much money you could make if shares of this company take off… and all the important details of this "new highway."
And I'll send you this report for free.
You can even access it instantly right now…
All you have to do to get it is accept this special no-risk invitation to invest alongside me at my real-money investment service, $100k Portfolio...
But you should know I'm not simply recommending you invest in this "new highway" company today...
I've put my money where my mouth is… and invested my own money in this company.
So, if you'd like to get your special report right now… and find out everything about the genius building a "new highway" across America…
including the name and ticker symbol of his company…
just click here and take a risk-free, 90-day trial to my real money service $100k Portfolio.
You'll receive instant access to your special report…
And discover exactly how I'm growing my portfolio… and making a million dollars by the end of the decade...
You see, I'm on a mission to turn $100,000 dollars into 1 million dollars…
And I only have six years left to do it!
Let me explain…
A few years ago… just before I was about to become a father for the first time…
I set aside $100,000 of my own money into a special brokerage account.
The money was earmarked for my son Macallister's education.
My plan was to turn my initial investment of $100,000 into 1 million in ten years...
Why ten years?
Why 1 million?
Well, even though my son won't be ready for college for at least 15 years from now…
I don't want to take any chances with little Mac's education.
And then there's the possibility of prep school and graduate school.
Besides, I knew my wife and I wanted to have more children.
In fact, since starting this special account, we've had another child.
My baby girl's name is Emmerson… and there's no doubt in my mind she'll be attending a top-tier university as well.
Of course, since this money is for my children's education…
I'm not willing to take a lot of risks with it.
In short, I'm personally committed to reaching my goal.
So while I'm not reaching for the sky or taking a chance on a penny stock…
I'm not content with two or three percent returns either.
That's just not going to cut it.
As you know, a college education isn't getting any cheaper.
In fact, the cost of tuition is rising even faster than the rate of inflation.
Which is why I'm shooting for twenty percent gains a year –
And I'm already working toward my target of a million dollars in ten years...
Recently my account was valued at $312,000.
So, if you're fed up with zero percent interest from traditional income investments like C.D.s, money-markets, and savings accounts...
And you want to capture real gains...
I'd like to introduce you to a unique strategy I call "a conservative approach to aggressive investing."
It's how I'll pay for my children's education...
And here's where you fit in…
When we decided to set up a college fund, I spent a lot of time and energy finding just the right investments for this special account... and my children's education.
Only the highest quality, safest investments would do.
And that part hasn't changed.
I was putting myself under a lot pressure to find only the safest and most profitable stocks that would secure my children's future.
And to be honest… I was hit with the extreme sense of responsibility that comes along with fatherhood.
It was pretty overwhelming.
That's when my wife… her name is Carrie… suggested that I do something unheard of with this brokerage account we created for our children's education.
Since I was doing all the painstaking research and analysis anyway…
she suggested I let other investors… people with similar goals of safely growing their wealth…
watch my every move and take gains along with me.
So whether you're saving for retirement… accumulating wealth to leave for your children… or saving for college tuition like me…
My $100k Portfolio service maybe be right for you.
Now, I've made a career out of helping other investors achieve their goals...
My firm, Wyatt Investment Research, provides investment research, analysis and advice to over three hundred thousand individual investors…
And I've made a comfortable life for myself and family.
But as much as I like making money… and believe me I do..
what really drives me is helping people achieve their financial goals and live a life of freedom.
So I like you to at least consider taking a risk-free trial to my service...
because there's real money on the line here… and I'm not willing to lose it.
So here's what I propose…
Instead of investing my $100,000 behind closed doors…
I've decided to make this special brokerage account completely transparent and open to investors like you...
That way, individual investors like you can follow my lead...
and have confidence that you're making safe, quality, long-term investments.
Now, you should know I started this exclusive advisory service during the depths of the financial crisis when many investors were simply giving up and walking away from the market.
But my readers and I were buying during the lows – and it's paid off for us ever since.
We've scored some fantastic gains recently:

429% on Netflix
263% on Mastercard
69% on Verizon
131% on Howard Hughes Corp
48% on Pfizer
266% on Tesla
In 2013 my $100K Portfolio beat the red hot S&P 500 by over a 6% margin!
And I'm going to redouble my efforts this year on my way to getting closer to my ultimate goal of growing this account to $1 million dollars.
So whether you have $100,000 dollars… or $5,000 dollars…
You can get started with $100k Portfolio today.
You can safely invest alongside me and quickly grow your money in the months and years ahead...
And while I understand that not all of my readers have young children with college tuitions to think about…
I've come to realize there's not a whole lot of difference in the way one invests for college or retirement...
or any other life-stage for that matter.
Each of these scenarios demand limiting risk while maximizing returns.
Which is why I'll be hand-selecting the best opportunities in the market… a well-diversified mix… including blue-chips, dividend-payers, emerging market investments, ETFs, and energy and growth stocks.
Because one thing's for certain: I won't be taking any unnecessary risks with this money.
This is one of the reasons I'm so comfortable recommending the company building this "new highway" to you today.
It's one my favorite long-term investments to grow your money available today.
In fact, it's a lot like the other investments in the $100k Portfolio: It's a sound investment for the long-haul.
My children's future is at stake – and there's nothing more important than their well-being.
If you have children, you probably know where I'm coming from.
If not, and you're saving for retirement… or a condo on the beach in Florida… or your children's inheritance… there's a good chance my approach to investing aligns with yours.
So here's what I propose…
I own 275 shares of this company building the "new highway" across America.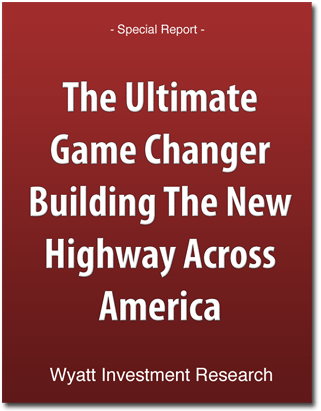 And, I completed a full research report on this company…
As I mentioned earlier... it's called: The Ultimate Game Changer Building The New Highway Across America.
Inside, you'll learn everything about this company, including its name and ticker symbol… and a full in-depth analysis.
This may be of the most intriguing investment opportunity you hear about all year.
And I want to share with you my very best idea…
But keep in mind… I don't sell individual research reports.
They're for members only.
But all you have to do to get it… is try out my $100k Portfolio advisory service...
Which is completely risk-free offer considering that if for any reason this advisory service is not everything you expected and more…
You can cancel and receive a full refund… any time between today and in the next three months!
Truthfully, that's the only way a publisher like myself can make it in this business… because if I'm not making money for my subscribers, they're inevitably going to cancel.
So even beyond my children's education…
I have all the motivation in the world to make aggressive returns on my $100k Portfolio investments.
Now, when you decide to join me at $100k Portfolio today…

You'll get a monthly newsletter with a review of key events affecting our portfolio…


Updates on our current positions, including new investments I'm considering for the portfolio…


And you'll always receive pre-purchase alerts on every position. I always let you know before I take any action in my real portfolio… so you have the opportunity to buy or sell the investment before I do – and perhaps enjoy even greater returns!


You'll also receive email alerts whenever I make a move in the portfolio… so you always know exactly what's happening. These alerts will include all the details of the investment… including the ticker symbol, number of shares, price, and total transaction cost.


Finally, you'll be sent detailed reports on every investment I add to the portfolio… whether it's an ETF, mutual fund, or individual stock or bond… I'll tell you exactly what I'm buying and selling, and more importantly… why… so you can determine if the same allocation makes sense in your portfolio.

Together we'll work to capture gains that could significantly outpace the market… and perform better than most mutual funds or hedge funds.
And I want to help you achieve these types of returns without putting your money… or should I say our money… at risk.
And here's the best part…
When you start today… twelve months of my service is just $49 dollars.
You'll receive a full year of my service…
and your special report, The Ultimate Game Changer Building The New Highway Across America.
and bonus investment reports… dozens of back issues…
PLUS – You'll also get one of my most popular special reports: My $20,000 Bet: How to Double the Market in 2014.
Inside, you'll discover a surprising strategy that's doubled the returns of the S&P 500 over the last four years.
This strategy is incredibly easy to learn and doesn't involve Options trading or complex algorithms.
All you'll need to do is buy 10 specific stocks at the beginning of each calendar year and wait for your profits to roll in.
You'll receive this report and everything else I've mentioned as we work together to grow you our portfolios considerably in the years to come… for less than what you might spend on one trip to movies with your family.
And I really think you'll like this…
My DOUBLE Money Back Guarantee…
If for any reason, you don't think the service is fulfilling its promise to you, you can get a one hundred percent refund on your subscription fee during the first three months of your membership.
That way, you can read all of the issues…
keep all of the special and bonus reports…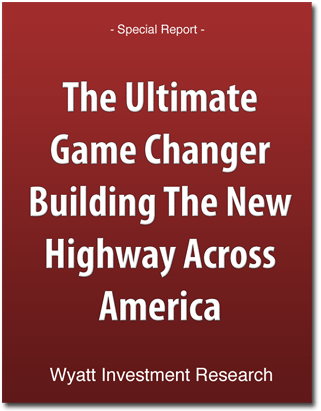 follow all of the buy and sell notices...
and still call my office on the last day of your first three months and request all of your money back.
And I'll refund all of it. Every cent. No questions. No problems.
That's my guarantee to you…
This is truly a great opportunity... I hope you'll join me today…
To get started and get your special report: The Ultimate Game Changer Building The New Highway Across America… just click on the link below.

Click here to start now and get
your special report.

Good Investing,



Ian Wyatt
Chief Investment Strategist
$100k Portfolio
* Investing in stocks carries certain risks for loss just as much as it presents opportunities for rewards. While each of the stocks in this new investment report has been thoroughly researched by professional analysts, investors are advised to perform their own research and due diligence before investing. Future returns claims made in this promotion are based on calculations and evaluations made to the best of the ability of $100k Portfolio research analysts, however they CANNOT be guaranteed and should not be considered as such.